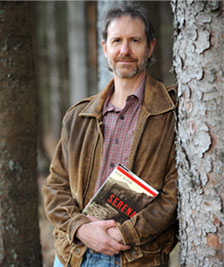 FCAC is still kick­ing. Lots of con­tent com­ing, but for right now there's this review by Tir­dad Der­akhshani of the film The World Made Straight based on the superla­tive nov­el by Ron Rash.
'Geog­ra­phy is des­tiny," Leonard Shuler (Noah Wyle) says in a voice-over at the start of the somber Appalachi­an tragedy The World Made Straight. As he speaks, the cam­era takes us across an over­grown piece of moun­tain in Madi­son Coun­ty, N.C., cut along one side by a two-lane road, the oth­er by a dirt-col­ored river.

For Mid­west­ern­ers, that means wide spaces; open vis­tas; pos­si­bil­i­ty, says Leonard. For his neigh­bors, who live their lives in the over­grown fields, mud­dy streams, and rough back roads of Appalachia, the world is lim­it­ed, stifling.
More?

While you're at it, check out the review of Rash's latest in the NYT.

Ron Rash occu­pies an odd place in the pan­theon of great Amer­i­can writ­ers, and you'd bet­ter believe he belongs there. He gets rap­tur­ous reviews that don't mean to con­de­scend but almost always call him a South­ern or Appalachi­an writer, and Mr. Rash has said he can hear the silent, dis­mis­sive "just" in those descrip­tions. He also baf­fles any­one who thinks that great tal­ent ought to be accom­pa­nied by great ambi­tion. Mr. Rash has plant­ed him­self at West­ern Car­oli­na Uni­ver­si­ty and elud­ed the lime­light that his work absolute­ly warrants.