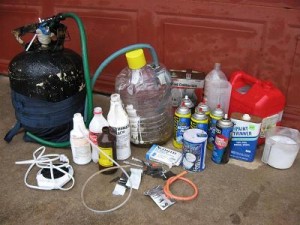 By Nick Kepler
Usu­al­ly, when Jen­nifer McQuer­rey Rhyne's truck pulls up to a prop­er­ty, it's the first time neigh­bors have seen any activ­i­ty there in weeks.
Even though the decals on her hulk­ing Taco­ma read "www​.wvmeth​cleanup​.com"—lit­er­al­ly spelling out why she is there—she becomes a mag­net for any­one look­ing for infor­ma­tion about the for­mer pro­pri­etors of the meth cook sites she cleans for a liv­ing. Along with a bevy of shady char­ac­ters, the busi­ness offers a win­dow into the chang­ing drug habits of rur­al, white America.
When I join her for a day on the job in Decem­ber, Jen­nifer is stand­ing out­side a ground-floor apart­ment in Clarks­burg, West Vir­ginia. Though she hasn't suit­ed up yet, her two asso­ciates, Heath Bar­nett and Joe MuQuerrey—her father—are already dressed head-to-toe in white chem­i­cal haz­ard suits, their faces buried in gas masks. They haul fur­ni­ture from the apart­ment into the bed of Jennifer's truck. The door is ajar to reveal the checker­board tile in the kitchen. Jen­nifer waits for the moth­er of the build­ing own­er to arrive with pay­ment for the job. More.