Now that you are gone what I remem­ber most
is the size of your hands—as big as oven mitts
I see them wrapped around a hoe handle,
then imag­ine them in box­ing gloves when you were young:
The sound of the bell and
your frame tow­er­ing over the oth­er man.
You drove an hour to get there—
a ring in the cen­ter of a park
moths dot­ting the lights
faces shin­ing in the sum­mer night—
some­one pass­es around a quart of moonshine
your broth­ers cheer you on, then
your oppo­nent falls like a sack of feed
your hand is raised over your head.
You catch your breath
and it's over.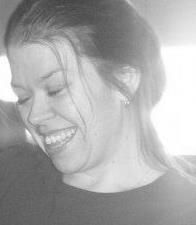 Aman­da Kel­ley has worked as a grad­u­ate assis­tant, adver­tis­ing sales rep­re­sen­ta­tive, sub­sti­tute teacher, news­pa­per reporter, deliv­ery dri­ver, prop­er­ty man­ag­er, and retail sales­per­son at a hard­ware store and at a lin­gerie shop. She is cur­rent­ly an MFA can­di­date at the Uni­ver­si­ty of Ken­tucky. Her work has appeared in The Acco­lade, Inscape, JMWW, Ken­tucky Monthly's Writ­ers' Show­case, and Eunoia Review. She lives in Lex­ing­ton, Ken­tucky with the poet Sean L Corbin and their two sons.