My entire nation pitch­es for­ward, ocean water turned violent.
It was a slow rise that we couldn't detect in the open sea.
But now we can see it, an air­less wall at crest peak,
that moment of full lungs ceas­ing to breathe in any more,
that split sec­ond as the cup fills and bulges toward overflow,
that moment the elec­tric­i­ty begins its charge down the synapses,
that pause when the gui­tar string is bend­ing, before it thwacks to hum.
That big glow­ing wave poised and hold­ing, and in one more millisecond,
it will snap into the next frame of time, it will begin to fall, to fold,
begin­ning to break and fray, the dark, glow­ing water sep­a­rat­ing into bro­ken pieces,
white and gold in the light and the roar will begin,
loud­er and loud­er as more col­laps­es and crashes,
pushed far under the sur­face by all that is falling on top of it,
like folks being car­ried away in a stam­pede of crowd.
And once it has fall­en, bro­ken, crashed, plunged, then the under­tow begins,
the demands of the ocean pulling back, demand­ing all its water return,
and the emp­ty lungs begin to expand and pull the air down the throat,
Right now, my nation is that big frozen, glow­ing wave.
It is hold­ing high and ready to unleash all its force
in this inevitable direc­tion it has been thrown.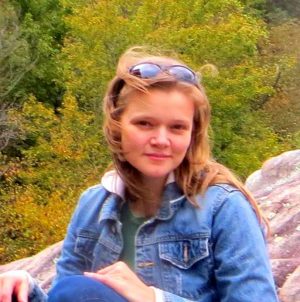 Melis­sa Hel­ton is Assis­tant Pro­fes­sor of Eng­lish at South­east KY Comm & Tech Col­lege and her work has appeared in Anthol­o­gy of Appalachi­an Writ­ers vol. VIII, Pine Moun­tain Sand and Grav­el, STILL: The Jour­nal, Motif v. 4, and more. Her first chap­book, Iner­tia: A Study, is avail­able through Fin­ish­ing Line Press. She lives and farms in the moun­tains of south­east Kentucky.