On her deathbed she asks me if I can still play
the piano, and begins to sing of jasper roads.
I search the linen for for­got­ten cro­chet needles
she swears are under the cushions.
Her hands nev­er stop mov­ing, trem­bling out
let­ter after let­ter into the air, spelling something
intan­gi­ble, some­thing liq­uid. Nev­er forgetting
to stab her fin­ger at the end of each line.
After she is buried, I hang no basil
and pray to a god I do not know, but fear.
Receiv­ing no answer, I pray to her instead,
and final­ly to some­thing qui­et and unnamable.
I imag­ine a sil­ver cord still exists between us,
not yet buried by the snowfall.
---
Some­where between here and there,
I find her in a mildewed trailer,
next to High­way 30, head­ing east.
I tell her I have my car wait­ing out back,
you don't have to stay here.
In the back­yard my father is dows­ing for water,
she has a headache so my palms begin to spill
salt over her gray hair.
I try to take her cold hand into my mine,
but she does not rec­i­p­ro­cate, they remain fixed
meld­ed into the porch banister.
Instead her eyes, milky and bewil­dered, stare
into the dark­ness search­ing the dim hills,
look­ing out into the dis­tance somewhere.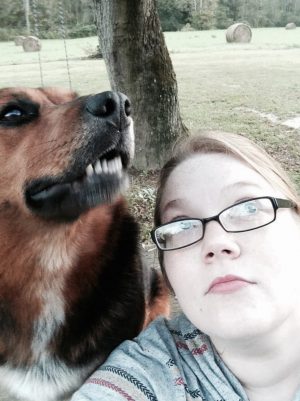 Joy Bow­man lives and writes in east­ern Ken­tucky. Her work can also be found in the anthol­o­gy Feel It With Your Eyes: Writ­ing Inspir­it­ed by the Uni­ver­si­ty of Ken­tucky Art Muse­um. She is a prac­tic­ing hermit.