It was a big fam­i­ly. So much so that Ama Quina was still hav­ing babies when her old­est chil­dren start­ed fam­i­lies of their own. The ini­tial sig­nif­i­cance of this over­lap­ping was that Ama Quina func­tioned as wet nurse for her grand­chil­dren not long after she had weaned her two youngest boys Ser­gio and Roy, El Pola­co—he was called that because his skin was so light he looked Pol­ish. Ama Quina's nueras, daugh­ters-in-law, were not hap­py about hand­ing over their babies for anoth­er woman to nurse, but the young brides' hands were need­ed in the fields as was the extra paycheck.
The chil­dren also learned the impor­tance of work and get­ting paid. When they were old enough to walk, each child fol­lowed the fam­i­ly to the field to pitch in and help with the work. Since the kids were raised so close togeth­er and with every­one shar­ing duties, they did not observe the for­mal­i­ties of fam­i­ly titles as is the cus­tom. The grand­par­ents and heads of the clan, Ama Quina and Apa Cheto, were the only ones to car­ry a title before their names. For the rest, there were no titles to dis­tin­guish one mem­ber of the fam­i­ly from the next like tío, tía, pri­mo, pri­ma, her­mano, etc. So the chil­dren of their sec­ond old­est son Julio, Gilbert and Dav­ey, grew up like lit­tle broth­ers to their uncles Checo and el Pola­co and called them by their first name instead of tío even though the uncles were years old­er than the kids. When­ev­er any­one out­side the fam­i­ly com­ment­ed on this "fal­ta de respeto," Julio would respond, "Es cul­pa de uno for not teach­ing them any bet­ter." The only way to dis­tin­guish which child belonged to each cou­ple was at night when the clan broke up after work and every­one retired to their respec­tive rooms, which were just that, cuar­ti­tos, one room shacks that the patron lent the field work­ers. Fol­low­ing an acci­dent, Julio was laid up in one of these rooms because his hand had been almost sev­ered when it was caught in a spiked press the men were try­ing to move with­out the aid of a trac­tor. His wife, Ani­ta, had plead­ed with the doc­tor to save her husband's hand, and when this did not move the sur­geon to action she wrote down his name and was very care­ful of the spelling because she did not want to make a mis­take when her hus­band woke with­out his right hand and asked for the name of the man "he must kill for leav­ing him crip­pled." The surgery last­ed eight hours and there was six months of bed rest before Julio could move around with his arm in a sling. The hand was still attached, swollen and for the time being use­less, but the fin­gers moved under the thick white gauze more and more every­day and the burn­ing around his wrist where the spike had bit­ten and torn his flesh was now almost bear­able. He could have enjoyed the time away from the fields had it not been for the con­stant com­plain­ing and quar­rel­ing he faced each evening when his wife and kids came back from the cam­po.
While injured, Julio had to rely on the pay­checks of his lit­tle broth­ers, Checo and El Pola­co, to sus­tain his fam­i­ly. But the way Ani­ta told it, she was the only one doing for the fam­i­ly, stay­ing longer in the fields, run­ning back to the cuar­ti­to to see to his hand and cook­ing the mid­day meal. Julio thought his wife a chi­fla­da who didn't appre­ci­ate the help they were get­ting from Checo and el Pola­co. Even Gilbert at ten and Davy only nine years old picked more grapes than she did. This remind­ed Julio of anoth­er of his trou­bles. Gilbert and Davy had got­ten hard­er to man­age for Ani­ta. The boys ran away from her in the fields and pre­ferred to pick the rows next to their uncles Checo and Pola­co instead of next to their moth­er where she could keep bet­ter track of the mon­ey they were earn­ing. Ani­ta, Julio thought, just didn't under­stand boys; it was only nat­ur­al for them to choose oth­er boys for com­pa­ny over their moth­er. Julio was at least thank­ful that Checo and Roy salieron buenos as far as broth­ers go.
One evening when Ani­ta came home herd­ing the boys in front of her, Julio thought about slip­ping out of the shack and eat­ing din­ner some­where else. Davy was march­ing ahead of his moth­er clutch­ing his pants and howl­ing con­tin­u­ous­ly, his sobs only inter­rupt­ed by sud­den attacks of hic­cups. Gilbert walked with a more delib­er­ate pace between his lit­tle broth­er and his moth­er. His cheeks were streaked with fur­rowed rows of dust where tears had fallen.
"¿Qué paso?" Julio asked his wife as the group came nearer.
"Tus queri­dos her­manos," Ani­ta hissed push­ing Gilbert who had all but stopped in his tracks at the sound of his father's voice. "Checo and Pola­co were mak­ing them fight again. Why don't they fight them­selves if they want to see a fight? Why do they have to pick on my babies?"
"Oh, that's how boys play," Julio said step­ping out of the door­way so the group could pass. "You keep call­ing them babies and they'll nev­er grow up. My broth­ers are just try­ing to tough­en them up."
Ani­ta turned in the mid­dle of the room. "Tough­en them up? I found them wrestling in the dirt with their pants around their knees. How does that make them tough?"
Julio looked at his boys. Davy was still cry­ing. Gilbert was try­ing hard to shrink into the fur­thest cor­ner in the room. "They were just playing."
"Checo and Pola­co were pok­ing their lit­tle butts with sticks, laugh­ing like idio­tas while my babies cried in the dirt." Anita's eyes were rimmed with tears and the veins in her neck looked like they were about to leap out of her skin.
"¿Qué dices?"
"Algo paso, Julio," Ani­ta screamed. "Your broth­ers did some­thing to my babies."
Julio paced the room like a ken­neled dog. His hand throbbed more now than it had all day. Davy had begun a new bout with the hic­cups that threat­ened to drown out Anita's shout­ing. Gilbert had his face buried in the cor­ner, cry­ing in silence.
"No paso nada," Julio said rub­bing his wrist. "No paso nada."
"Algo paso, Julio. Your broth­ers did some­thing to my babies."
"No paso nada," Julio shout­ed. "They're help­ing us, with­out their checks we couldn't buy food." He moved on Davy, grab­bing him by the arm with his good hand and lift­ing his ban­daged hand in the sling over the boy's head. "Ver­dad que no paso nada," he demand­ed from the boy. Davy was silent for a moment then began cry­ing anew. Ani­ta lunged at Julio, crash­ing into his ban­daged wrist as she screamed, "Poco hom­bre." Julio winced with pain, released his hold on Davy then shoved Ani­ta to the floor, where she stayed.
Gilbert ran to his mother's arms, but she pushed him away and cov­ered her face to cry. Gilbert kneeled next to his moth­er sob­bing, "No paso nada. No paso nada."
Lat­er, Davy woke in the mid­dle of the night scream­ing from a night­mare, the first of many. In a cou­ple of weeks, the night­mares came accom­pa­nied by inci­dents of sleep­walk­ing. They tried tying a string to the boy while he slept then attach­ing the oth­er end around Julio's foot so he could feel if the child got up in the mid­dle of the night. But this only caused the boy to wake up throw­ing fits, punch­ing, and kick­ing like a cap­tured savage.
Day­time rivaled the night in its lack of peace. Gilbert and Davy could not get with­in arm's reach of each oth­er with­out becom­ing a tan­gled mass of kick­ing feet and goug­ing fists. The boys' fights caused Julio and Ani­ta to quar­rel. The quar­rels gave the rest of the camp more to talk about.
Ani­ta and Julio took Davy to Ama Quina for a limpia. Ama Quina rubbed an egg over Davy then cracked it and emp­tied its con­tents into a glass of water. The yolk was stained in the cen­ter with blood, a true sign of mal de ojo. She took a broom and swept over the boy and then made him hold his head under a tow­el over a bowl of burn­ing herbs. She frothed the boy in alco­hol and wrapped him in sheets. Dry­ing her hands on her apron, Ama Quina said, "Si esto no lo cura, llé­va­lo de aquí."
The camp was talk­ing about Julio's poor luck. His hand all broke up and on top of that a sick kid. But this wasn't all that was being said. Julio's old­er broth­er Ines told their sis­ter Lola about how Checo and Roy were jok­ing about mak­ing Davy and Gilbert play with their chili­tos. Cheti­to was heard talk­ing with Mel and Rafa about how Checo had told him how he held Davy and the fun­ny gar­bled nois­es Davy made when Checo made him kiss Gilbert's pipi. More details leaked out, but no one can be sure what is true and what has been exag­ger­at­ed when talk­ing about these things.
No one but Checo and Roy—with skin so fair he looked Polish—could know how sur­prised Davy and Gilbert looked when they sneaked up behind them as the boys peed. Only Checo and Roy can close their eyes and see the baf­fled look on Davy and Gilbert's face when Checo asked them, "Who's bigger?"
"I'm old­er," Gilbert said.
"But I'm big­ger," Davy said still peeing.
"Let's see," Roy said grab­bing Gilbert between the legs. Roy locked Gilbert's hands behind his back and with his free hand reached around and fin­ished pulling the boy's pants and under­wear down, all the while shriek­ing with laugh­ter. Checo had Davy from behind by the elbows, shorts dropped to the knees, grind­ing the boys butt into his crotch and yelling, "Look, the lit­tle girl likes it."
"Look at Gilbert's pret­ty chili­to," Roy said. "Make him kiss it."
Checo pushed Davy's face between Gilbert's legs. Davy screamed but was muf­fled by a mouth­ful of flesh. Gilbert bawled with pain and tried des­per­ate­ly to break free but he was busy try­ing to get his eyes to close tighter, tighter. When the boys were final­ly turned loose, they stood fac­ing each oth­er, pant­i­ng. Davy, feel­ing a betray­al he could not under­stand and because he didn't' know what else to do, punched his broth­er in the face as hard as he could. The blow seemed to wake Gilbert out of a trance and he lunged at his lit­tle broth­er knock­ing him to the ground. They rolled around in the dirt until their moth­er appeared and Checo and Roy ran off laugh­ing like idiots.
Apa Cheto and the old­er broth­ers gath­ered some mon­ey to help Julio move his fam­i­ly to a neigh­bor­ing ranch that need­ed a new fore­man. His hand was almost ful­ly healed and would be as good as new by the time the har­vest­ing sea­son start­ed again. Two years after that, Julio was able to move his fam­i­ly out of state to Texas where he found an even bet­ter job dri­ving a truck for a lum­ber yard in Houston.
Davy's night­mares became less fre­quent with every move but nev­er real­ly went away. As time passed, the fam­i­ly talked less and less about the night­mares and more and more about how Gilbert and Davy, even now as young men, couldn't be in the same room with each oth­er with­out get­ting into a fight. Every­one agreed that it was very sad that the two boys nev­er learned to get along like brothers.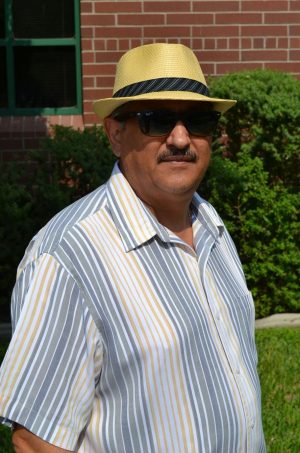 Juan Ochoa lives and writes on the Mex-Tex bor­der. Ochoa is the author of Mariguano: a novel. Ochoa oppos­es slav­ery so he advo­cates for immi­gra­tion reform.