From the pho­to­graph in The Moun­tain Eagle
titled GUNSMOKE, you know Wayne Whitaker
wears over­alls and has a broth­er named Waylon.
The arti­cle says Wayne is a native of Hal­lie, Kentucky.
And in oth­er news, a scan­dal sheet at Wayne's feet
says the human soul weighs 1/3000th of an ounce.
What we don't see, beyond the gray-white billow,
is the oth­er head­line: ELVIS PICTURE WEEPS
and God's hand in this—how else could Wayne W.
have shot an impres­sive­ly tight X and lost?
God, Thief of Har­vests, Builder of the Stars,
has fixed the Moun­tain Her­itage Black Pow­der Shoot.
That's what Wayne says in the arti­cle, adding
that God has whis­pered to his broth­er the teller
at the Mayk­ing Chris­t­ian Bookstore—
PO Box 400, Mayk­ing, KY 41837—that Fleming-Neon
is where the trum­pets will sound and Judg­ment Day
com­mence. Still, the way Wayne eyes the target,
show­ing us, in oth­er pho­tographs, what to do,
when and how to breathe hold move—
God could do worse than pull up a lawn chair
and bet on this 1/3000th of an ounce
who may make shoot­ers of us all
before the pig roast.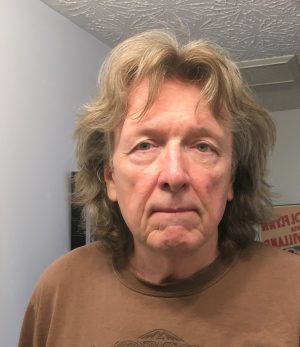 Roy Bent­ley is the recip­i­ent of six Ohio Arts Coun­cil fel­low­ship awards, as well as a fel­low­ship from the Flori­da Divi­sion of Cul­tur­al Affairs and a Cre­ative Writ­ing Fel­low­ship from the Nation­al Endow­ment for the Arts. Poems have appeared in The South­ern Review, Shenan­doah, North Amer­i­can Review, Prairie Schooner, and Wac­ca­maw among oth­er jour­nals. He is the author of four col­lec­tions of poet­ry: Boy in a Boat (Uni­ver­si­ty of Alaba­ma), Any One Man (Bot­tom Dog Books), The Trou­ble with a Short Horse in Mon­tana (White Pine Press), and Starlight Taxi (Lynx House Press) which won the 2012 Blue Lynx Poet­ry Prize.