On rainy days
I give myself permission
To touch the glass
And see your remains:
Tis­sues, shadows,
All that is left
Of you.
Danc­ing with ghosts
Over dark hills.
Sky­larks, old dear.
When I stand in your old room
I feel so sad that I mas­tur­bate myself.
Bees feast in tar­tan plumes,
Birds hang­ing on threads.
An old don­key hobbled
Into the mists.
Ring-a-ring-a-ros­es.
A pock­et full of posies.
Your tiny hands trem­ble away
From my throat. Jack-daw.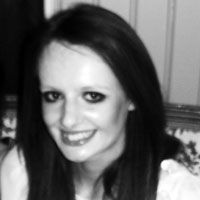 Natal­ie Crick has found delight in writ­ing all of her life and first began writ­ing when she was a very young girl. Her poet­ry is influ­enced by melan­cholic con­fes­sion­al women's poet­ry. Her poet­ry has been pub­lished in a range of jour­nals and mag­a­zines includ­ing Can­nons Mouth, Cyphers, Ariadne's Thread, Car­il­lon and Nation­al Poet­ry Anthol­o­gy 2013.