She bought a hotel, on the ocean, because God told her to. For this, she need­ed help, so she turned to God, and gofundme​.com to raise ten mil­lion dol­lars for the pur­chase. She dec­o­rat­ed her hotel with stars and starfish, or any­thing hav­ing to do with mariners, and the ocean, but most­ly stars and starfish—-and thought, God is the stars.
Her hair was thick and curly, and hung down to mid-tor­so, both he loved to wash when they shared a tub. After he gen­tly mas­saged in sham­poo, he slow­ly poured water over her. The both shared this feel­ing of cleans­ing. After­ward, they would lay in bed in crisp sheets, the walls as glossed as a blind­ing light, looked at her ceil­ing, a flat blue-black, with specs of light paint­ed on it. He drove up there the first three days of every month, as long as it wasn't the week­end, as the hotel filled dur­ing those times. He said he was there because he loved the ocean, but didn't wor­ship it like a God, and he also let it slip that he loved her too.
Before the next month, she told him not to come. It was sud­den, He rep­re­sent­ed too much of her old world and her spir­i­tu­al­i­ty demand­ed some­thing which she could only describe to him, to make him under­stand, as some­thing like their bath sev­en days a week, twen­ty-four hours a day, He tried a few times to get in touch with her, even call­ing the hotel's office, but the record­ing only said that she/they were no longer tak­ing phone calls but leave a mes­sage, if you felt called to do so, and would be returned if she/they were able and felt called to do so as well.
This all hap­pened because there were things she nev­er told him. It was a long sto­ry, which she had worked through, but it was impor­tant for her to be viewed as she was now, nev­er as she was then. Before she was brought to the place she is in now, she used to work as a den­tal hygien­ist. She hat­ed the ear­ly patients, first thing in the morn­ing who rolled out of bed and did noth­ing to their mouths because they were get­ting brushed and flossed there. She hat­ed the patients seen after lunch who only brushed twice a day, and not after lunch. They were the ones that left fish between their teeth. She had no respect for those who didn't have self-care. Most­ly it all came down to not brush­ing and floss­ing because if every­one brushed and flossed, she wouldn't be need­ed as much.
The den­tist who owned the prac­tice became her lover. He was old­er, but not yet of the age where he smelled of being old. She liked how he ran the office, pay­ing atten­tion to her, and all the employ­ees. He had empa­thy, and even com­mis­er­at­ing about the morn­ing and after lunch peo­ple she despised. The sex was great after hours, on a den­tist chair, exper­i­ment­ing with the exter­nal oral suc­tion machine, which she was respon­si­ble for the san­i­tiz­ing of after­ward. Then the sex was good at his house, and after she moved in the sex wasn't as good. It became his way, and at his times. She also was stunned to real­ize he wasn't at all the way he was in the office. He was unsup­port­ive, crit­i­cal, jeal­ous of some of the patients she worked on, and ver­bal­ly demand­ing and abu­sive. She no longer could stand him, but he was her employ­er, he was her home, and he had become her only life­line, and he knew it. She felt an urge to do some­thing bad enough to him to land her­self in jail, or if she didn't, land her­self in an impa­tient facility.
The only way pos­si­ble to leave him was men­tal­ly. As long as he thought she was com­ing on to patients she thought, why not graze her breasts against the back of the head of the men she from behind as she scaled his teeth? Why not whis­per in their ear if they seemed respon­sive to that, about a place to meet lat­er and a time? Why not give her­self some sort of con­trol? At first it seemed excit­ing, almost right­eous, but often it brought her to anoth­er dark place where she want­ed to take the sharp scal­ing tool and plunge in straight down through the next patient's sub­mandibu­lar duct.
And then came the day, she and her den­tist drove up the coast, and some­thing was said, which she can't remem­ber, because he pushed her head hard against the pas­sen­ger side win­dow caus­ing a con­cus­sion. She was in a hos­pi­tal, and he was nowhere to be seen. When he did come back for her, the next day, she was gone, referred to a woman's shel­ter on the ocean, run by a group of nuns known to be part of the Mary­knoll Sis­ters. She loved the nuns, because of their pres­ence of love, and that they gave her space to heal, and med­i­tate and work her way out of her PTSD. She walked the beach, pick­ing up shells, drift­wood and dried starfish. The wood once impor­tant, had end­ed up here, exact­ly where she was, get­ting ground­ed in space. This was impor­tant, as the sand, the sea, and the stars, gave her peace.
She also began writ­ing a book about over­com­ing her abuse, and broad­cast­ing some of her sto­ry on the inter­net. The seg­ments were heavy and touched on how she had been saved, and her redis­cov­ered faith. She con­fessed she want­ed to be a nun, a key rev­e­la­tion which would become the con­clu­sion of her mem­oir. Peo­ple fol­lowed her broad­casts, thou­sands of them, engrossed by her and her sto­ry. The nuns also tuned in. They liked her, but she wasn't Catholic, and that was a rea­son good enough why she couldn't become one of them. She would do the next best thing. She bought the hotel next door.
The hotel either had guests who loved the ocean, or guests who went there as an instru­ment of God's teach­ing, based on her pro­mo­tion. It was all fine with her, because she believed Gods was the stars, so why not it be the sea, or a man with a beard.
Occa­sion­al­ly she missed the man who used to vis­it, and want­ed to have time with him, but then the thought made her feel uncom­fort­able and con­fused. She thought maybe it was fear, or per­haps love, but the one with the small "l", not the big "L" which she lived for. She knew, with­out know­ing her sto­ry, he couldn't know her, and he could nev­er be the One who knew the num­ber of hairs on her head. She gave her sto­ry out to the world, but not to him, which rep­re­sent­ed some­thing. The day she told him not to come back she already knew, he could nev­er be He.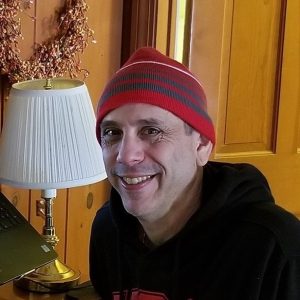 Tim­o­thy Gager has pub­lished 17 books of fic­tion and poet­ry. Joe the Salamander,is his third nov­el became an Ama­zon #1 Best Sell­er in its cat­e­go­ry. He host­ed the suc­cess­ful Dire Lit­er­ary Series in Cam­bridge, MA from 2001 to 2018, and start­ed a week­ly vir­tu­al series in 2020. He has had over 1000 works of fic­tion and poet­ry pub­lished, 17 nom­i­nat­ed for the Push­cart Prize. His work also has been nom­i­nat­ed for a Mass­a­chu­setts Book Award, The Best of the Web, The Best Small Fic­tions Anthol­o­gy and has been read on Nation­al Pub­lic Radio.