I got the 2
nd
anniver­sary of Tami's death creep­ing up on me in less than an hour, one tic past mid­night. I have a sense of dread
&
ris­ing anx­i­ety, like I'm going to break when it arrives. It didn't help to get extra stoned. I'm not usu­al­ly prone to para­noia but I'm walk­ing a fine edge tonight. There's so much I miss about her but most­ly it's her friend­ship, she was the one who knew me best
&
she loved me uncon­di­tion­al­ly. We talked about grow­ing old togeth­er
&
now I'm here with­out her, gone at 61. She's missed 2 birth­days
&
I miss her all the time but work hard not to dwell on it. And I'm start­ing to feel bet­ter, less tense, bet­ter pre­pared. It's rain­ing, I hear it pat­ter the roof. I like that. I took Pit­tie out a lit­tle while back. She quick­ly peed
&
made a bee­line for the front door. We were out all of 2 min­utes. Now she's crashed under a blan­ket on the sofa next to me. So I'm not so alone, I have this hap­py dog who some­times is a pain in the ass. But we love one anoth­er
&
she makes me move
&
gives me anoth­er life to care about. Tami saw to that. She stayed long enough to help us find Pit­tie
&
get her set­tled
&
then she was gone. Two years, fast
&
slow but always real. So here I sit, writ­ing this, remem­ber­ing, tak­ing things a minute at a time. Not so curi­ous about the future, it'll come
&
I'll have to let it hap­pen. Then some­day Tami here again, or me there, how­ev­er it hap­pens. Or noth­ing, noth­ing above or beyond, not even a black hole, just orig­i­nal noth­ing. I won't know it any­way. I'll be noth­ing too.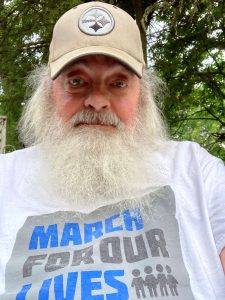 Bart Solar­czyk lives In Pitts­burgh,
PA
with his dog Pit­tie
&
cat Mil­lie. His poems have recent­ly appeared in Big Ham­mer, Road­side Raven Review
&
Pitts­burgh Mag­a­zine. His book Tilt­ed World is avail­able from Low Ghost Press. Anoth­er col­lec­tion, Clas­sic Chap­books, is avail­able from Red­Hawk Pub­li­ca­tions
&
on Amazon.