Out­side, a mer­cury vapor lamp
on its tall wood­en pole throws blue fire
down onto the grav­el park­ing lot below,
where cow­boys rid­ing pick up trucks
instead of hors­es scuf­fle with each other
in the shad­ows to pre­serve their honor.
Blood and spit damp­en the earth.
Loose coins spilled from their pock­ets shine
like crys­tals of a bro­ken geode in the dust
their snake­skin boots have scuffed into a roil­ing cloud.
Inside, Arkansas Slim and his Ozark Ramblers
have knocked off for the night.
From the juke­box Tam­my Wynette cries
Stand By Your Man.
On the dance floor the last few couples
strug­gle to hold each oth­er up,
spin­ning dream­i­ly toward last call,
eyes on emp­ty, feet bare­ly moving.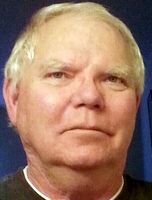 David Jib­son grew up in rur­al Michi­gan and now lives and writes in Ann Arbor. He is an asso­ciate poet­ry edi­tor of "Third Wednes­day", a lit­er­ary arts jour­nal and mem­ber of the Crazy Wis­dom Poet­ry Cir­cle. He has retired sev­er­al times, but keeps stum­bling into new careers, most recent­ly work­ing for a non-prof­it hos­pice agency. He thinks the most impor­tant ele­ment of his poet­ry is "sto­ry".