So it's been some time since I updat­ed. It's been a hell of a year. My health went to hell in a hand-bas­ket, and I wrote a ton of poems as a result. I read many books, and bought many more. The fam­i­ly went through some junk, and I went through some junk. Boy howdy.
On to the impor­tant stuff: even through the hell­ish land­scape that has been 2019, I have got­ten work done since my last update. A poem appeared in Black Cof­fee Review's Fall 2019 issue called "Piss­ing In Pub­lic Uri­nals," which was received with many quizzi­cal looks and side­long grins, but gen­er­at­ed more praise than many things I've writ­ten more recent­ly. My sto­ry "Easy Tiger" appeared in The Des­per­ate and the Damned anthol­o­gy. 'The Russ­ian' appeared in Mys­tery Tri­bune in Sum­mer 2019, and final­ly, the pieces de resis­tance, the two books I have that have come out this fall, Kraj the Enforcer: Sto­ries, out in Octo­ber from Shot­gun Honey/Down & Out Books, and Apoc­a­lypse in A‑Minor, a mis­cel­lany of poems,from Ana­log Sub­mis­sion Press, due out on Novem­ber 18th. Here is the cov­er copy for Kraj: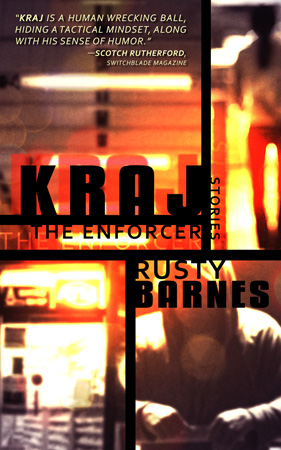 Meet Kraj—pronounced krai—a low-lev­el errand boy and hit-man mas­querad­ing as a bounc­er for Tricky Ricky Gutier­rez, nefar­i­ous own­er of the Twist, a club in upstate Elmi­ra NY. A place that has both a LGBTQIA night and a cow­boy coun­try night, this cock­eyed cor­ner bar in north­ern Appalachia sup­ports Ricky's ille­gal schemes, and serves as a rur­al balm for Croa­t­ian-war refugee Kraj.

Kraj plies his trade over a short span, mov­ing from pet­ty theft to strong-arm­ing tips from peo­ple at the door, break­ing up red­neck fights, pro­tect­ing the club's nubile female staff and col­lect­ing gam­bling debts owed Tricky Ricky. Kraj even­tu­al­ly gets sucked fur­ther and fur­ther into Ricky's under­world plans, where he wants to be seen as a man on the come-up, but he has prob­lems mov­ing up in Ricky's orga­ni­za­tion will nev­er solve. His sis­ter Ana, miss­ing since the Croa­t­ian War for Inde­pen­dence, nev­er strays far from his mind.

Kraj, togeth­er with his some­time girl­friend Cami, new­ly become man­ag­er of a fran­chisee McDonald's, and his man­ag­er Mikael. nego­ti­ates his way through under­ground fight clubs, pros­ti­tu­tion rings, drug deals, pet­ty thiev­ery, and of course, mur­der. Tricky Ricky gives Kraj a great deal of rope and auton­o­my to oper­ate.

Will he hang him­self with it or swing?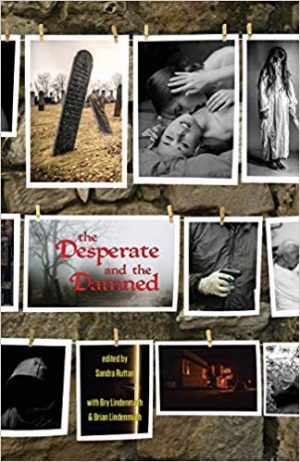 As far as the future goes, I have two sto­ries in the final stages of con­sid­er­a­tion for dif­fer­ent antholo­gies, plus the sto­ry "Big Pop­pa" com­ing out in Goli­ad Review. I also have a nov­el. The Enforcer's Revenge fea­tur­ing Kraj, the pro­tag­o­nist of my most recent book, in edits. I said I'd giv­en up on that one due to a num­ber of com­pli­cat­ing fac­tors. but I may have found ways around. It will take time and oppor­tu­ni­ty that I don't have right now, so it may be a year or two before I can fix it. I also have anoth­er full, if short, nov­el fin­ished, one whose bones are strong, but no agents are inter­est­ed, because it only runs 55K. Too short for sub­mis­sion. It's called Sun­set Approach­ing, and it hear­kens back to my ear­li­er work, a more Appalachi­an book in set­ting and tone. I hope to place that with a uni­ver­si­ty or inde­pen­dent press some­time in the near future.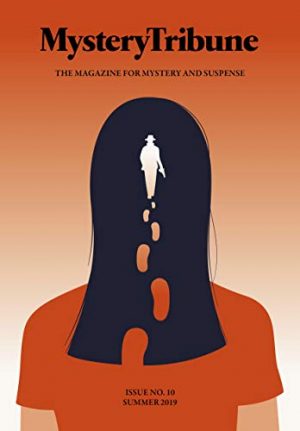 And final­ly, I'm in the midst of col­lect­ing a bunch of Appalachi­an sto­ries that I've pub­lished in var­i­ous jour­nals since Most­ly Red­neck came out, some crime and some not. They fit pret­ty well as a col­lec­tion, so I'll be shop­ping that around soon enough too. I have a pri­vate inves­ti­ga­tor nov­el I'm work­ing on spo­rad­i­cal­ly. set here in Revere, where I live and write. I have high hopes for that, at least high com­pared with my goals for 2019, which was basi­cal­ly to sur­vive. I've done that, despite innu­mer­able chal­lenges, and I remain hope­ful in spite of crush­ing depres­sion, anx­i­ety, and psy­chosis, and I only hope I stay well enough to do the work that is in me to do.